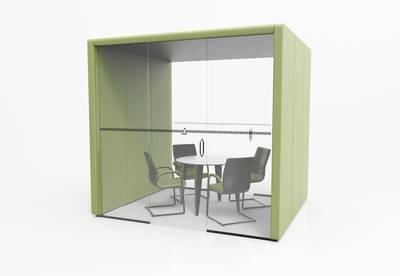 The ideal solution for Activity Based Working within the modern open-space office. Completely transparent and lockable. A modular, functional space-in-space solution for (informal) meetings, phone calls, concentrated working or conferencing.
Because of the creative and flexible design and the use of modular elements, the Ahrend Flexbox is available in a large variety of sizes, from a small call unit to a spacious meeting room. Available in an extensive range of colours and upholstery.
Sound-absorbing and isolated from within
Sound-absorbing for the surrounding area
Tested by Peutz laboratory of acoustics
Special upholstery for extra acoustic effect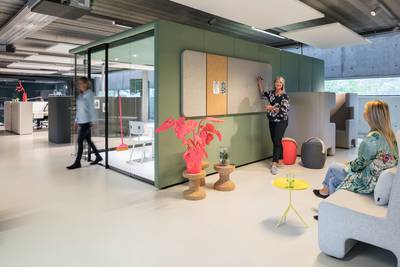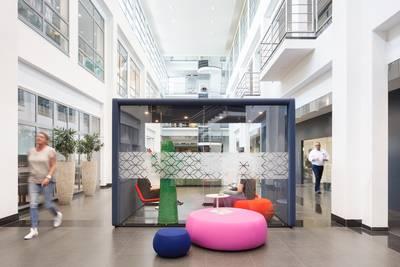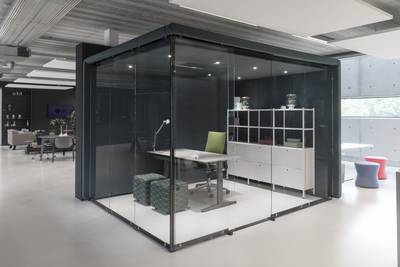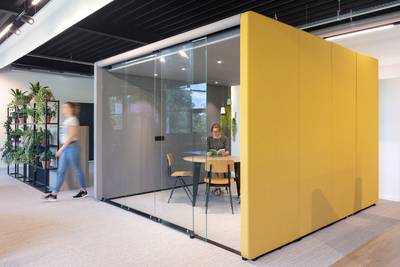 Basten Leijh
Basten Leijh was born in 1975. After following the direction 'Man and Mobility' at the Design Academy Eindhoven his graduation project, a city bike with a detachable handlebar that function as a U-shaped lock, was adopted by world's largest bicycle manufacturer Giant in 2002.
After several years of experience as a product designer and interior designer, he started his own design studio in 2005, Bleijh Concept & Design. The studio has grown into a multidisciplinary design agency and is well known for its innovative products and concepts. Including office chairs, adjustable desks, bicycles, packaging, waste disposal products and even nautical concepts came from his studio. Basten Leijh's work is conceptual, but has also a highly functional character and is exhibited worldwide. He believes in total design solutions where the context and environment are as important as the product itself: "the product in its full experience."Basten Leijh stands for integration of design in an early stage of the strategy of a company. This is why he often sits at the table at an early stage in the development of future plans or new initiatives. His motto: "Authentic, functional products that give you a smile... products that makes the world happy".
BASIC MODEL
Dutch design and 100% manufactured in the Netherlands
Designed according to circular principles; only using sustainable materials so that components have a long lifespan
The design fits perfectly with Ahrend Loungescape, allowing you to create an interior with a consistent and complete look
Enables solutions for personal comfort that stimulate healthy, creative and productive working
TECHNICAL DETAILS
Ahrend Flexbox is a 100% modular range wherein all components can be re-used in other Flexbox solutions
Very easily mountable and demountable on location
Acoustic function, both from within the Ahrend Flexbox and for the surrounding area in which the Ahrend Flexbox is located
100% plug&play: Standard equipped with electrification, data and air management
OPTIONS
The modular system can be expanded by the addition of upholstered panels and/or glass walls
Large choice of colours and upholstery
Flexible to expand in steps of 0.8 m in width up to a maximum size of 25.6 m².
Additional options such as video screens / TV arm's, lighting from Intra Light and LEDS C4, fire alarms, sprinkler systems, air-conditioning and various ventilation solutions make the Ahrend Flexbox complete
Need more information?
Where to go next?